how I changed how corporate design worked at a non-profit level
I've been preaching this for awhile, and I figured it was time to give the world an in depth personal discovery I made while going through the transition to work from home.
This small little app has saved my team countless hours, and changed my work experience for the better. What I hope could happen in the future is Google revisiting this app and modifying so it can become Publisher 2.0 for those who can't design on a big scale budget.
For awhile now, I've felt that Adobe was working itself into a corner with their design products. I say this because most people I interacted with on a daily basis had come to me asking for quick designer needs. Like a designer straight from college, I used InDesign to build most flyers and works. What I discovered is I was having to call my copywriter who didn't have Adobe installed on his computer, over multiple times. We often had minor mistakes we wouldn't catch and it was very frustrating because everything felt like it was on a timer from when he was in office and when I was in office.
And then the pandemic happened. 
We were having to call over Google meets so often that I began making most documents inside of Google to speed something up. And then I discovered it. The golden feature to Google's entire suite.
I feel this is 100% worth mentioning because I completely stumbled into this. This feature was something that is not put out front too much. However, it makes all the difference. Here you can make sizes as big as a wall space. I recently used it for planning out a gallery event with art prints so I could visually see the surface area. 
But because everything in slides has PDF output, you can create a crisp design in seconds.
And that's just the tip of the iceberg that I discovered.
​​​​​​​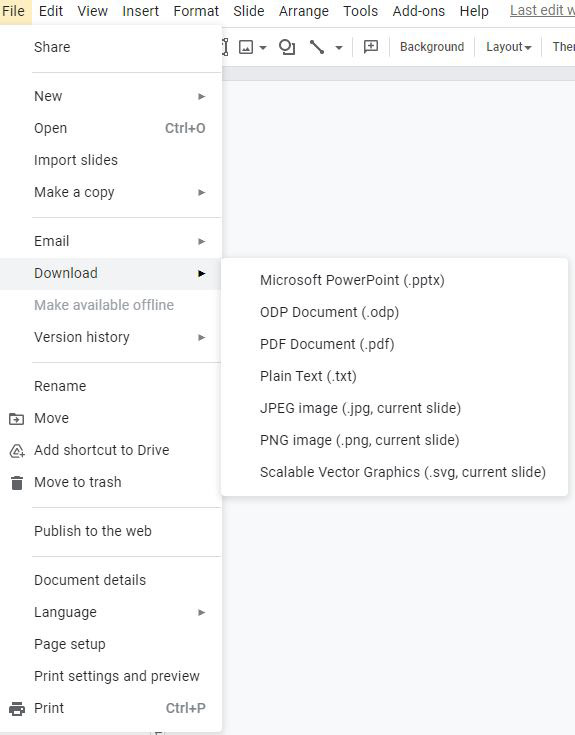 Since it was built on the fact that it would be used to convert Microsoft PowerPoint, you can actually take a file built as a PDF, export it in Acrobat and download as a PowerPoint desk and then import the entire design into Google Slides. Avoiding any major rebuilds if you short on time. 
"I work with creating reports and need a way to display and make convincing pieces in short time frames. What should I use?"
Literally has the best Google sheets conversion and comes with pre-built graphs you can edit on the fly. The person on the stats could be live updating numbers, and once you're in a state that is not changing outputs, you can just hit the link corner to update the numbers at anytime you need on the document. This can apply to any quick infographic you need. It's a game changer in terms of saving time.
There's a few more quick perks I want to mention before going into why Google NEEDS to advertise this to give Adobe a challenge (cough, make team accounts less paywall heavy).
- Google fonts (copyright free)
- File History: This is actually huge because you can go back and edit any problems that could have happened if someone went into your file and recover.
- Build a table of contents friendlier than InDesign by linking 
- Help search feature that is friendlier than Adobe PC
- Crop images into shapes
Now again, this isn't as crazy in depth as InDesign. In fact, if I had the choice for speed I would still choose InDesign. However, because of how impactful this program is, I've created in the past year more designs inside of Google than Adobe for internal projects. It's led to faster outputs and better file storage in the long run. I can also edit anywhere and anytime on almost any device. I can pull slides on my phone and edit text if I need to. I can bull the design up from Google Drive. It's become such a staple I have only learned to use it more and more in my life.
This next part are just small tweaks to the program I would make to have it be more of a competitor to Adobe: 
- Drawing shapes side more thought through
- Saving color palettes (However, you could make a company wide theme and import into the doc. I've also found if you copy all the assets and paste them, it'll quick save colors even after you delete them out)
- Transparency and filter abilities such as overlay
I think with a small amount of additional care this program could be use to make Google's first design app that could compete with Canva and Adobe EASILY because of the Google Drive capability. 
This has the potential to be a tool that could change not only corporate industry documents and design, but also people's lives. I recently made a slide that I was able to share out to friends to make a virtual e-card in January. 
The ability to co-work on designs and projects is the future of the remote industry, and Google has a gold mind waiting to happen.
If you like this little vision blog, you can email me at cweber.gd@gmail.com and give me your feedback.